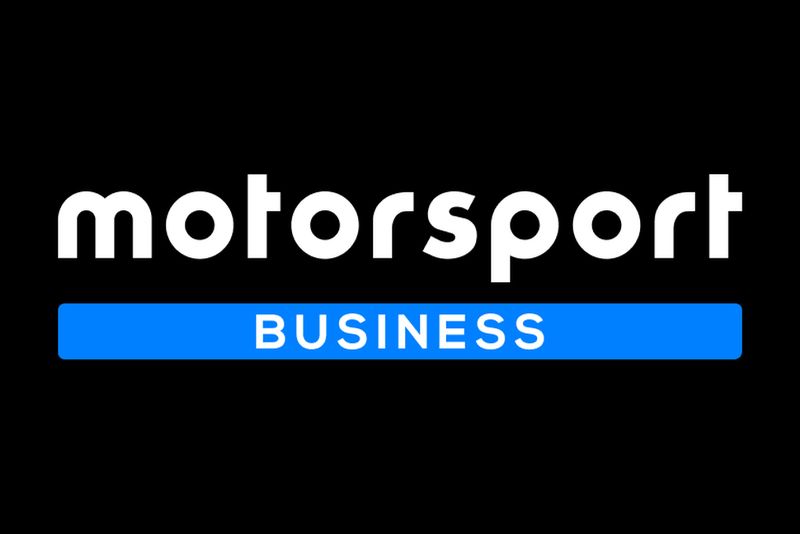 Topic
Motorsport Business
How commercial success has fuelled Aston Martin's on-track F1 speed
Rival Formula 1 teams were caught a little bit by surprise by Aston Martin's spectacular form in the Bahrain GP.
However, in one area the Silverstone team has already been operating at a high level and attracting envious glances from the competition.
In commercial terms, Aston Martin has been a consistently strong performer as the number of brand names on the car attests.
The team has not one but two title sponsors in Cognizant and Aramco – or three if you count the financial contribution made by the sister road car company – but that's just the tip of the iceberg.
In fact, the team is now generating around eight times the sponsorship income that it did in 2020, the last year it ran as Racing Point. That's an impressive effort by any standards, and it says a lot about the appeal of the Aston Martin name.
Identity has always been an issue for Team Silverstone. There was a time in the Jordan days when it had an outlaw image that appealed to the likes of Benson and Hedges, and savvy commercial boss Ian Phillips had a Midas touch when it came to bringing in sponsors.
However, that allure had faded somewhat at the end of the Jordan era. Through its brief Midland and Spyker period the team was an even harder sell, and then in the Force India days it was hard to spot any sponsors that weren't associated with Vijay Mallya until BWT came along.
After Lawrence Stroll took over the team in 2018 he used the deliberately generic Racing Point name for a couple of seasons while laying the groundwork for the change to Aston Martin in 2021. Helped by the presence of Sebastian Vettel, who gave extra credibility to the project, it was like lighting the blue touchpaper as sponsors signed up.
The man responsible for bringing in the money is Aston Martin F1 managing director Jeff Slack, a 59-year-old American sports marketing veteran who knew nothing about motor racing until he met Stroll early in 2020.
You won't know his name, but you might have seen him – in an Instagram video Aston issued of its Bahrain third-place team photo shoot he was the man bouncing up and down and hugging Fernando Alonso.
Slack has brought know-how gleaned not just in US sports but also in European soccer, having once run one of Italy's top clubs. Along the way, he's worked with global megastars such as Michael Jordan and David Beckham.
A competitive cyclist in his younger days, he began his sports marketing career in the late eighties organising and raising the finance for a US-based team that he also rode for.
In 1990 Slack joined sports management legend Donald Dell, whose ProServ organisation did for tennis what Mark McCormack and IMG did had done for golf. The company was also becoming a major force in basketball.
"The guy I worked with the most was Michael Jordan, which was fascinating," says Slack. "So I really learned the business of sports. The NBA, in my opinion, has always been the best at making sports a business, and making entertainment.
"They've had to work harder than other leagues, because it wasn't a big sport. It wasn't baseball, or football, in the United States. So I was learning that model, and how that all worked."
In 1997 Slack moved to the Muller Sports Group, where European soccer became his new focus, and specifically dealing with merchandising rights on behalf of the leading clubs.
"It was really the beginning of commercialisation of European club football," he says. "I was blown away by the numbers. I mean, they dwarf any US-based teams. We think the Cowboys are popular, or the Yankees, or whatever. It's nothing compared with Manchester United, Barcelona or Bayern Munich.
"Through that process of having met the European clubs and being involved in buying some Brazilian clubs I had this opportunity to become CEO of Inter Milan in 2000, and be the first American to run a European team. The basic concept was applying American sports business practices to soccer."
Slack ran the Inter Milan operation for four years before joining the Wasserman Media Group in 2005, where he had his first motorsport involvement via MotoGP promoter Dorna.
In 2009 he went to IMG where he helped to build the professional soccer league in China and worked closely with Beckham. He was also involved in IPL cricket in India.
In 2014 he left IMG to set up his own business. The Beckham connection led to an involvement in the Miami FC soccer team, while he has also worked with FIBA, the basketball governing body.
It was early in 2020 that he met Lawrence Stroll, which led to his first involvement in F1.
"We were introduced through a mutual friend," says Slack. "Lawrence really is a visionary. I know people think he has a certain public persona, but he's one extremely generous, warm-hearted guy. He's a strong-willed guy.
"He understood that the Aston Martin brand is one of the world's premium brands. And with that brand there was a lot more commercial marketing potential with the team than as Racing Point."
Jefferson Slack, Racing Point, F1 Team Commercial Managing Director
Photo by: Racing Point
Slack spent COVID-hit 2020 season preparing the ground for the switch to the Aston Martin name and a fully green car for 2021 – which led to an awkward situation with BWT, whose pink colours had been associated with the team since 2017.
It wasn't just about the livery but also how much the Austrian water company had been paying to get title sponsorship – it simply wasn't enough for that arrangement to continue into the Aston era.
"There was a lot of discussion about how much pink was going on the car," says Slack.
"And we spent a lot of time on that. We saw where Vijay's business ended up, and team was often struggling for cash, and clearly BWT played a really important role.
"But we were going to the next level, and you can see where we are today and look back and again say Lawrence's vision was right. You've got to move on and get with the programme, that we're no longer going to be satisfied to be a mid-table team. We want to win, and to win, this is what you need to do.
"And it also requires the resources to do it. At the end of the day, Lawrence is a very wealthy man, but he's not Ferrari, he's not Red Bull, he's not Mercedes, he's still an individual.
"He's also trying to compete against people who are very large corporations that in some cases are using this for their marketing platform. So you've got to take your hat off to him. We also had to do things that were reflective of the Aston brand.
"BWT played a very important role in the team's evolution, and we obviously still had them with us in 2021. But then that was the end of the relationship."
In selling Aston Slack had to move on from the complicated origins of the team.
"I think the people we were talking to aren't in the bubble," says Slack. "Most of them wouldn't have known that there was Jordan, or even Force India.
"The problem wasn't the past, it was about the future, it was about Aston Martin coming back to the grid for the first time in 61 years. It was very much of a future-looking programme."
Slack downplays the fact that Aston's heritage in Grands Prix racing was confined to an unsuccessful foray in 1959-'60.
"Here maybe it's almost helpful not to be steeped too much in F1," he says. "Because for the average person, Aston Martin is one of the greatest aspirational brands in the world, especially if you like cars. It's up there with Ferrari.
"In the F1 world, Ferrari is the ultimate pedigree, and the ultimate brand for F1. But the people that we're talking to aren't necessarily F1 aficionados. Sometimes they are, sometimes they like cars, but Aston is just such an aspirational, wonderful, premium luxury brand.
Fernando Alonso, Aston Martin F1 Team, Lance Stroll, Aston Martin F1 Team, the Aston Martin team celebrate after securing a podium finish
Photo by: Glenn Dunbar / Motorsport Images
"That was the genius of Lawrence. And that's what unlocked all of our potential, because companies want to be associated with that brand, and that marketing approach.
"The fact that it had been a long time since Aston was in F1 wasn't really a detriment to it. It was really a brand that needed to be a bit unleashed, because I think it had been undersold as a brand anyway. That was the opportunity, absolutely."
The Aston name had obvious appeal, but it didn't sell itself – Slack and his London-based team had to put together programmes that made sense.
"If you're talking about serious money and partnerships, you're talking to serious companies who understand marketing," says Slack.
"It's not just enough to have a brand, you've got to have the means to deliver on that, to tell the story, to have a social media approach, to have guest experiences that work, to have an ESG [environmental, social and governance] programme.
"You have to create all of these things in order to be a candidate for major companies to consider putting their precious money with you.
"So yes, without the Aston brand, we wouldn't have got any relationships. That was necessary, but not sufficient. The sufficiency came in with putting an organisation into place that could execute and promote and tell that story of an association between a brand and Aston."
The big one, agreed late in 2020 and officially announced the following January, was Cognizant. Among those who tried to get the deal was McLaren.
"That was a transformational moment," says Slack. "I didn't know Cognizant before we started talking to them, and you probably hadn't heard of them, but they are a Fortune 175 company with 300,000 employees and market cap of about $50 billion. So this is a major company.
"Cognizant's CEO had decided that they wanted to significantly change their brand. They wanted to become like an Accenture. To do that they needed to look at premium properties. And they thought that sport was a good platform upon which to build that.
"Anytime you do that and you're putting your message out to say we're going to spend money, everyone from Manchester United to McLaren gets involved. And we were lucky enough to get it. They did a number of things, but we were by far their biggest project.
"It was almost an ideal marriage because they needed the brand association. Aston Martin Lagonda is a much smaller business by any metric, but with a much bigger and a more premium brand.
"That was a fundamental game changer for us as a team as we went to the next level getting a company like that."
The arrangement wasn't only about hard cash: "They've put 16 people into our business. They are enormous contributors with their expertise. They've advised some of the biggest companies in the world about being part of the digital transformation.
"It's not just the financial aspect, they're bringing best practices to the team in a lot of areas that help us go faster."
Aston signed nine new deals for the 2021 season, and more followed for 2022. The big one was Aramco, whose name was incorporated into the team identity for that season.
"Obviously, energy, petrochemical and fuel businesses go very well in F1," says Slack. "It wasn't some unique marketing idea that never happened before!
"We found in Aramco somebody extremely innovative, that wanted to not only work with us from a branding and marketing standpoint – which in some ways is fairly new for them, because as a business, they hadn't generally done that – but they are also very much deeply involved in the technical aspects of how they can help us be a more competitive team.
"So another highly competitive process, with some of our competitors looking as well to try to do the deal. But that worked out, and they are a pillar upon which we're building our future success."
Along the way, there have been many other deals, including names such as Boss and Girard-Perregaux that obviously fit well with Aston's upmarket image, as well as tech companies.
"We found a good sweet spot in the tech B2B space," says Slack. "I think between the branding, the hospitality, the storytelling, F1 is the best platform upon which to tell a tech story, because we actually use the tech, we use the data, we use the cybersecurity."
Is there one deal that Slack is particularly proud of?
"I guess I'm most proud of the whole thing," says Slack. "We started with Lawrence's vision, and we've successfully executed it and increased our revenues probably eight times in three years. And I don't think anybody's done that.
"That's been done without enormous track success, although now it seems like it's happening. So I think our whole organisation is proud of that, because that wasn't a given.
"Normally you need track success to get the commercial success. And we've been able to least lay the groundwork to build upon without that."
It's obvious that there's not a lot of spare space on the car. The challenge for the future is to leverage the success that the team looks set to have in 2023 and agree bigger deals, either via extensions with current partners, or from new ones.
"We've already done six deals for this year," says Slack. "We've constructed it such is that we will continue to grow, and we need to continue to grow, along with the ambitions of the team.
"So we're definitely not where we want to be. We have an ambitious approach to bringing more partnerships, and more income.
"Most of the deals that we did for 2021 were three years. So obviously, this an important year for that. But we've added deals now, so we don't just have a cliff, we've got a good stable of partners going forward."
There's an old adage that the way to make a small fortune out of motor racing is to start with a large one, and Stroll is well aware of that.
While he's invested a huge amount in the team, giving it the resources to move forward, he didn't get to where he is by wasting his money. In other words he's more than happy to recoup what he can and in effect spend someone else's cash.
"Our owner is a little different," says Slack. "He spends it and he comes and says, 'Okay, I spent this money go find it for me.' He's not waiting for us to bring in the money like some others, which is probably the more prudent approach. That's not the way Lawrence works!
"Lawrence only knows how to do things one way, and that's the right way. And so he goes forward with it, and then we figure it out.
"We certainly have a lot more to do to make the team a profitable business. You take a football analogy, you go and buy a team, and you buy the players, and you've got to build it up. And that takes you a few years. He's made investments, a £250 million factory, and the people he's hired.
"So Lawrence has just ploughed ahead, and we're just trying to do our best to make it a viable business for him. We've been much more successful economically than we imagined. But Lawrence has been also spending more than we imagined!"
Subscribe and access Motorsport.com with your ad-blocker.
From Formula 1 to MotoGP we report straight from the paddock because we love our sport, just like you. In order to keep delivering our expert journalism, our website uses advertising. Still, we want to give you the opportunity to enjoy an ad-free and tracker-free website and to continue using your adblocker.
Become a subscriber.
Disable your adblocker.